Who is online?
In total there is
1
user online :: 0 Registered, 0 Hidden and 1 Guest
None
Most users ever online was
57
on Wed Jul 03, 2019 5:28 am

THIS ISN'T MY FORUM!!!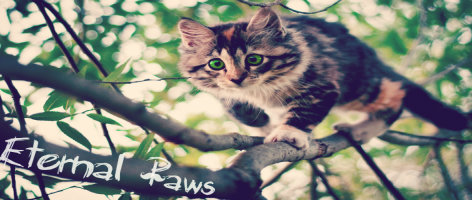 .¸¸.•´¯`»   eтernalpawѕ.ғorυмoтιon.coм/forum  «.¸¸.•´¯`
With the forest and lake territories near forgotten, now rises the new and improved Clans. Strong-willed, proud, and feeling confident with their new lifestyles, the Clans aren't truly ready for everything in store for them. While they may be ready for droughts, storms, predators, prey shortages, and Twolegs, the adventure is really just beginning. They're up for it, but the question is, are you?

Eternal Paws is an organized, new, aspiring warriors community. After days, weeks, and months of building, we're finally ready for more members! Stay active on the forum to earn new ranks and prizes, build up your characters' history, talk with other warriors, join different Clans and groups, learn the ways of the warrior, and become part of the EP family!
eternalpaws.forumotion.com/forum
▀▄▀▄▀▄▀▄▀▄▀▄▀▄▀▄▀▄▀▄▀▄▀▄▀▄▀▄▀▄▀
eternalpaws.forumotion.com/forum
»   ℓσσкιηg ғσя sтαғғ
»   ℓσσкιηg ғσя cℓαη ℓεα∂εяs
»   яρ мαρ cσηтεsт
»   ερ ∂яαωιηg

Join us today~!


Similar topics
---
Permissions in this forum:
You
cannot
reply to topics in this forum